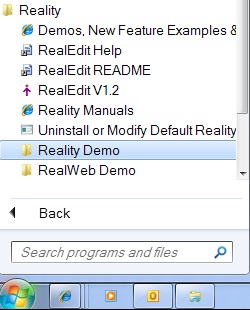 This menu option provides access to the automatically installed complete set of Reality Manuals and the typical Pick/MV TCL command prompt within the delivered demo database (demodb), which can also be accessed from remote systems via a Telnet session providing this protocol has been enabled under Windows features in Control Panel.
◄

refer to Reality sub-menu information

Loading Optional Features…
The following can be loaded at any time,
SQL ODBC/JDBC and other connectivity options, Web Client S/W, Screen Editor (RealEdit) and more –
e.g. TCP/IP Bridge permanent connections and serial port access, Active-X, TCP/IP Sockets examples…
Refer to Installation page, [Custom] option under Windows Install.